Ten or more years ago, I purchased a Gerber multi-tool. It was less expensive than a Leatherman, and it was painted in my favorite color. Since then, I saw my brother's Leatherman Wave, and wanted one. For Father's Day this year, Janice gave me a Wave. I like it — it's a sleek piece of engineering in every way. The screwdriver fits more of the screws that I encounter compared to the bulky phillips head on the Gerber. The saw works far better. It's easier to access the Leatherman's knives, saw and file.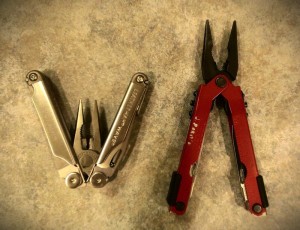 However, I've found that when I'm out and about in the yard, the Gerber is easier to work with. It's belt-holster is secured with velcro — easy not only to open, but to close. And opening the pliers is an easy one-handed flick-of-the wrist, which means I don't have to put the tool in my left hand down in order to open the pliers like I do with the Leatherman.
The Gerber's pliers can be used to pry things apart. The Leatherman folds up when I try the same thing. The Leatherman is a more dangerous tool to open and use — more likely to pinch or draw blood (as it has done on a few occasions).
The tools definitely have trade-offs. I admire the Leatherman most, but for regular use, the Gerber wins.
The same thing is true of operating systems. I've used Linux and Windows for years, and have wanted to try out Mac OS X and a MacBook Pro.
My wish came true. For the past two months, I've been using a MacBook Pro 17″ with Retina display. Not only is the engineering and design gorgeous, the screen is eye-poppingly clear and crisp. The battery lasts and lasts, and the laptop doesn't get too warm. The track-pad is the best I've ever used, and I love the gesture support to go forward and back in the web browser, and the gestures to switch desktop workspaces, activate Mission Control and Launch Pad.
Yet the keyboard shortcuts have taken some getting used to compared to the ones I know from both Gnome (Linux) and Windows 7. I find that it's easy to accidentally hit Command-Q when I meant to hit Command-W. Control-Left and Control-Right don't work — it's Option-Left and Option-Right to jump forward and backward by a word. Home and End go to the beginning and end of a document instead of the beginning and end of a line. There's no built-in window-snapping like Windows 7 or Gnome-Shell.
When I switch back and forth between Mac, Linux, and Windows, I hit the wrong keyboard shortcuts. Is it Command-C or Control-C for copy? On-and-on it goes — sharp edges. But I'm getting used to context switching. I love the MacBook Pro.
Last week, a Gallego UltraPro arrived from System76. It's a compact powerhouse, and best of all, the keyboard shortcuts work like I expect, and I can get work done faster because I'm used to the underlying OS and tools. When programs break, I know where to look and what utilities to use to solve the problems (I love having /proc available). But the UltraPro with Ubuntu has sharp edges as well. The screen is a bit small, and it's not as beautiful as the Retina display. It doesn't have a backlit keyboard, and so far, I haven't been able to get Evolution to talk to our Exchange server (which isn't a problem on Mac because it has Outlook).
I admire the refinement, the visual beauty of OS X and the design of the MacBook Pro. For regular use in getting my work done, the UltraPro and Ubuntu currently win.